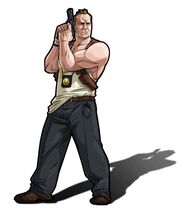 Nick is a Survivor who was available as part of the first Kickstarter for those who pledged at Walker level ($25) or above.
Kickstarter Description
Edit
Nick - Bad Cop
"I do things by the book, my book!"
Lieutenant Nicholas Walker has sometimes been bad, and always lucky. Corrupt and cocksure, Nick gets his man, anyway he can, even if it means doing things a normal cop wouldn't do. Bluffing and bullying his way through the streets of New York, this highly decorated officer has put away hundreds of criminals and lined his pockets discreetly while he was at it.
Now, with no more crime and money meaningless, he desperately searches for his wife, rescuing and helping other survivors in the vain hope that someone has seen her.
Nick came with a Zombivor figure (shipped separately) as the Kickstarter reached its Stretch Goal of $100,000.
Nick's character is based on the character of John McClaine, played by Bruce Willis, from the Die Hard series of films.